How to Conduct Effective IT Risk Assessments and Mitigation Strategies
ADVERTISEMENT
During and after Covid-19, many activities have shifted to more online modes, such as shopping, doctor appointments, movie rentals, and food ordering. The more these activities involve exchanging sensitive data and funds, the more cyber-attacks will increase. Therefore, every business, company, and individual needs security and Protection from these attacks. So, is your IT infrastructure secure? Have you performed a proper risk assessment to test your firewall?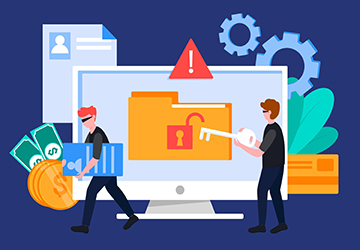 If not, follow the steps outlined here to take preventative action now.
What is an IT Security Assessment?
It would help if you evaluated how secure your information and data processing are against cyber-attacks. These areas include:
· Is your network and data vulnerable to attack?
· If an attack occurs, how likely will it affect customers and sensitive data?
· Could your hardware be a target?
· Is there a security back door?
If you don't have security protocols, it's time to bring in an IT or cybersecurity professional to assess the situation. Remember that regular security assessments should be done yearly, with smaller estimates and notifications every few months.
Why is it essential or rather critical?
The possibility of your infrastructure crashing, data being stolen, funds being lost, etc., is dire, so here are some of the purposes it serves.
· Time savings - regular assessment and maintenance work is part of the day-to-day, rather than responding to bugs that can cause confusion and waste resources and time.
· Support Availability - Security or IT teams can identify each risk, fix necessary patches and prevent breaches.
· Proper communication - different departments become part of the team and understand the loss, which does not only affect IT or finance.
· Cost-effective - once board members and senior management understand the risks, you can get financial support.
How to conduct security risk assessment effectively?
Consider all the aspects and steps you should include in your security assessment. This guide provides a basic understanding of what can be done.
1 – Which information resources are critical?
Different departments have different answers to this question. Here are a few short examples:
· CRM is a top priority for the sales department, as any disruption can result in considerable losses in sales and marketing.
· The IT specialist ensures that the servers are up and running, which is his top priority.
· The personnel department keeps their employee data and information confidential.
Depending on which assets and data are more critical, you can watch the information flow and see if anything needs to be added. You can share any mistakes with specific stakeholders to correct or improve the situation.
Once you have collected data on critical assets, you can use analytics to rank them according to their importance. Layering lets your security or IT staff fix problems first and ignore smaller ones.
2 – What threats could harm you?
Here are some threats that affect data and damage your infrastructure.
· Cyber-attacks - if your data is deleted, your data must be protected; your staff should be trained when things like phishing or spam happen.
· Hardware Failures - Regularly check the health of hardware resources to ensure they do not fail and cause losses.
· Natural Disasters - These are mostly beyond our control, but regular backups or off-site support systems can mitigate the damage they cause.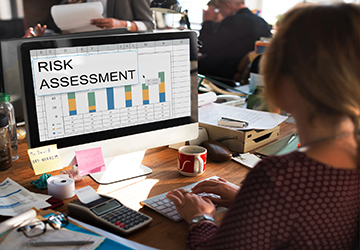 3 - Highlight potential vulnerabilities
Here are some quick checks to assess vulnerabilities as part of a routine.
· Create audit reports after analyzing potential risks and critical data.
· ST&E procedures that require you to conduct security testing (such as penetration testing) and conduct appropriate assessments.
· Paid third-party tools that can automatically run vulnerability tests on-demand or on-demand.
4 - Internal controls within the system
In the IT and cybersecurity industry, you have two essential types of controls at your disposal.
1. Use tools such as various security protocols, software, antivirus programs, security policies to control data access and data sharing, and equipment to detect hackers and hacking attempts.
2. There may be physical controls such as server access, hosts, power supplies, and unauthorized access to sensitive areas.
If your IT department or entire enterprise cannot implement these controls, you can hire a security firm to do it.
5 - Analyze threat likelihood and impact
Based on the above analysis and identification of vulnerabilities, professionals can perform statistical analysis and classify them when they are most likely to occur.
The categories involved are:
· high risk
· Average risk
· low risk
Based on this classification, you need to analyze each activity's impact on a specific action. Creating a business impact analysis report can help you prioritize initiatives quantitatively or qualitatively. You can use the risk level matrix as a goal and use this intelligence data to create a final account to help your organization develop appropriate policies and procedures to protect your workplace and data.
Best Risk Mitigation Strategies
By understanding the potential risks involved and their severity, you can better strategize against these deficiencies.
· Protection - controls, and security measures are in place to prevent and stop attacks.
· Risk Transfer - If an attack is likely to occur, you can transfer it to another server cluster or entity that will not harm you.
· Reducing the impact can include training your staff to be more experienced and trained to avoid and manage such situations.
· Risk acceptance - many policies and agreements are unsuitable for growth and productivity. In these cases, train your professional to be prepared for calculated risks that he knows in advance.
Diploma
This comprehensive yet concise article provides an overview of risk assessment and mitigation in the IT industry. You should consult a security service or audit firm after your inspection to review your security infrastructure and policies.